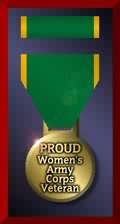 VIETNAM WOMEN'S MEMORIAL PROJECT
A Legacy of Healing and Hope
Diane Carlson Evans, RN
Founder
265,000 military women served throughout the world during the Vietnam war.
More than 10,000 served in Vietnam. 90 percent of them were nurses.
Diane Carlson Evans is the Founder and Chair of the Vietnam Women's
Memorial Project. Having served six years as an Army Nurse during
the Vietnam war, Evans went to battle again, leading a nationwide
crusade for nine years -- to realize her vision -- a monument to honor
and portray women at the Vietnam Veterans Memorial in Washington,
D.C. Wrestling with government agencies and Congress, enduring
individuals and journalists who vilified her and her effort, Evans'
perseverance, stamina and tenacity kept the dream of this tribute alive.
Her leadership and testimony before every Congressional and
bureaucratic hearing in the nation's capital inspired thousands to join in
her mission which finally won victory for the women who served on
November 11, 1993, with the dedication of the Vietnam Women's
Memorial -- the first memorial in America's history to honor military
women in the nation's capital. Like her sister veterans, Evans' story is
one of compassion and justice -- women risking their lives for humanity
in the midst of a horrific war. And, ultimately what it takes to
build a public reminder of courage and sacrifice.Our War
I don't go off to war, so they say,
I'm a woman.
Who then has worn my boots?
And whose memories are these,
Of youth's suffering?
Please don't forget me.
I've been through war's hell and if only you will listen.
I've a story of those chosen to sacrifice for us all.
1983, Diane Carlson Evans, Vietnam 1968-9

OFF LIMITS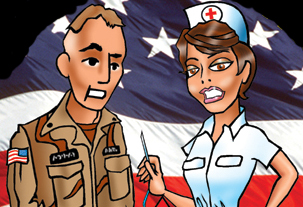 Sites Created By "Doc" For All Military/Veterans
E-mail Doc